First, a little extra bragging! We have won an award for this blog! We were recently notified that our blog was selected as one of those best exemplifying RV travel blogs, and I'll tell you there are a lot of RV blogs out there. The group making the selection has a website called Tripbase. Their specialty is travel of all kinds. Our blog was described "as an excellent example of what a blog should be." They even gave us a badge to display on the blog!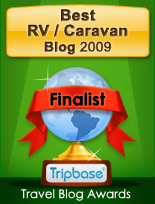 You can look at their award page at
http://www.tripbase.com/awards/
Thanks, dear readers, for keeping us going, keeping us interested in blogging!
We recently had a visit from Gene and Cheri Holcomb, RVing friends who have been through some tough times recently. Gene had spent some months in Indiana keeping watch as his daughter died after a long struggle with cancer. Although Cheri had to stay here in Arizona, as her own mother is going through some medical situations, she was able to join Gene from time to time. Otherwise they kept in touch by phone for mutual support and encouragement.
Cheri was able to be with Gene for the difficult task of making final arrangements for his daughter, and then for the surprising death of his mother a week later. Both of them had to spend extra time in Indiana helping dispose of homes, furnishings, etc. They told us their own strong Christian faith had sustained them, along with the knowledge that we, and many others, were praying for them.
Gene and Cheri are now back in Sierra Vista, about 30 miles from here, where they have been gradually setting up their new home.
Here in Benson, we continue to set up our new home. Thirty-four years ago, Suzy embroidered the face for a wall clock, and I assembled the cabinet and installed the works. Over time, and through many changes of residence, the clock fell into disuse, and the works kind of fell apart. We cleaned it up, installed new works, and have hung it in our bedroom.
I built several clocks over a period of years, cutting and fitting all the wood myself, then installing good quality works in them, many of them with chimes. I stopped building clocks when people kept assuming I had made them from "kits."
This was my first clock - I built it for my parents 40th wedding anniversary, in 1972. It sits proudly in our living room today.
We have three of my old clocks here now, and we'll be getting another one back, probably next year. That one is a tall clock, a "grandmother," which is on the style of, but smaller than a grandfather clock. Daughter Kathie has had it on display in her home, but now that we have our new place, she wants us to have it back. All of the clocks will need new works which we'll be getting over several months.
With our first great-grandchild due in November, Suzy has been busy crocheting!
She made this blanket
and two baby caps,
one with a matching "Momma cap." Next will be another blanket and a multicolor toddler's sweater with a matching cap, for when the baby is a little older. The three items will be a matched set.
We have told you this is Monsoon season here in southeast Arizona. A couple of days ago we had a major thunderstorm that really let loose the rain. Afterward, we were rewarded with an Arizona sunset, which we hereby share with you!
That's our treat to you for following along … Our Life on Wheels.